ENTER CUSTOMER INFO
Enter power bill and energy use information
INPUT SOLAR SYSTEM
Choose the solar system you want to install
BEAUTIFUL ANALYSIS
Deliver a stunning proposal to your customer
Solar Proof"s Software Makes Your Company More Efficient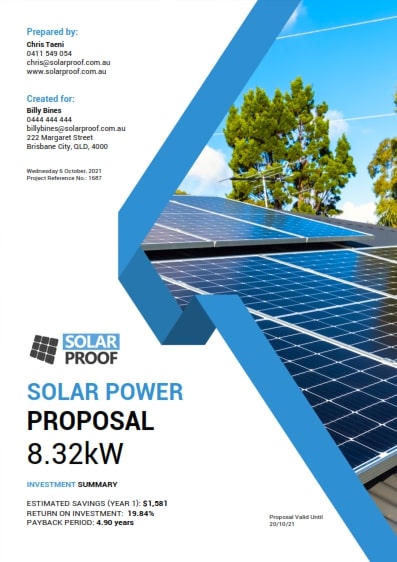 Start With A Customised Template
Choose from one of our stylish proposal templates or create your own.
Enter Information As-Is
System inputs are designed to match the info you collect from your customers.
Output To Match The Customer"s Needs
Easily edit each solar quote to tailor to your customer"s needs in just a few seconds.
View Example Output
Solar Proof"s solar software does a complete 25 year analysis by taking 1 full year of hourly energy use data and comparing it to a simulated solar output from the Bureau of Meteorology (BOM).
Solar Proof Software: 1 Week Solar Production VS Energy Use